Russia Ukraine War Updates: The UN Security Council on Friday unanimously adopted its first statement on Ukraine since Russia's military action began on February 24, expressing "strong support" for Secretary-General Antonio Guterres' efforts to find a peaceful solution to the 10-week "dispute." The short presidential statement approved at a very brief council meeting Friday does not mention a "war," "conflict" or "invasion" as many council members call Russia's ongoing military action, or a "special military operation" as Moscow refers to it.
Meanwhile, US President Joe Biden has authorised the shipment of another $150 million in military assistance for Ukraine for artillery rounds and radar systems in its fight against Russia's invading forces. A US official said the latest tranche of assistance includes 25,000 155mm artillery rounds, counter-artillery radars, jamming equipment, field equipment and spare parts.
In other news, many Indian students pursuing medical courses in Ukraine, who returned home following the invasion, seem to be uncertain about going back to their universities. A number of these medical students have told indianexpress.com that some teachers and locals allegedly hold it against them that New Delhi has not supported Ukraine in this Russia-waged war. Here's what we know about the issue.
U.S. Central Intelligence Agency Director William Burns said on Saturday that Russian President Vladimir Putin believes doubling down on the military conflict in Ukraine will improve his outcome in the war.
"He's in a frame of mind in which he doesn't believe he can afford to lose," said Burns, who was speaking at a Financial Times event in Washington. "I think he's convinced right now that doubling down still will enable him to make progress." (Reuters)
Ukraine's military command said on Saturday that Russia was continuing its assault on the Azovstal steelworks in Mariupol.
"With the support of artillery and tank fire, (the enemy) is continuing storming actions," it wrote in a regular evening Facebook briefing. Ukraine says many civilians remain trapped at the plant alongside Ukrainian troops. Earlier on Saturday, Russia's Interfax news agency cited Moscow-backed separatists in Ukraine's Donetsk region as saying that 50 more people had been evacuated from the besieged steelworks. (Reuters)
Russia's most senior lawmaker on Saturday accused Washington of coordinating military operations in Ukraine, which he said amounted to direct U.S. involvement in military action against Russia.
"Washington is essentially coordinating and developing military operations, thereby directly participating in military actions against our country," Vyacheslav Volodin wrote on his Telegram channel. Washington and European members of the transatlantic NATO alliance have supplied Kyiv with heavy weapons to help it resist a Russian offensive that has resulted in the occupation of parts of eastern and southern Ukraine but failed to take Kyiv.
However, the United States and its NATO allies have repeatedly said they will not take part in fighting themselves, in order to avoid becoming parties to the conflict. US officials have said the United States has provided intelligence to Ukraine to help counter the Russian assault, but have denied that this intelligence includes precise targeting data. (Reuters)
Air-launched Russian missiles hit two locations near the Russian border in Ukraine's northern Sumy region on Saturday, local governor Dmytro Zhyvytskyi said. A border guard was wounded by the strikes on the Myropilske and Khotin municipalities, Zhyvytskyi wrote in a post on the Telegram messaging app.
Reuters was not able to immediately confirm details of the report. Russian forces fully withdrew from Sumy region in early April after advancing into parts of the region at the start of Russia's invasion of Ukraine. (Reuters)
Al-Qaeda leader Ayman al-Zawahri made an appearance in a pre-recorded video to mark the 11th anniversary of the death of his predecessor Osama bin Laden. Al-Zawahri says in the video that "U.S. weakness" was the reason that its ally Ukraine became "prey" for the Russian invasion.
The 27-minute speech was released Friday according to the SITE Intelligence group, which monitors militant activity. The leader appears sitting at a desk with books and a gun. Urging Muslim unity, al-Zawahri said the U.S. was in a state of weakness and decline and cited the impact of the wars in Iraq and Afghanistan launched after the 9/11 terrorist attacks. Bin Laden was the mastermind and financier behind the attacks. (AP)
Several missiles hit the southern Ukrainian port city of Odesa on Saturday, the regional administration's spokesman Serhiy Bratchuk said in televised remarks. Bratchuk said the strikes hit the city after targets in the surrounding Odesa region had been hit by four missiles earlier in the day.
He did not give further detail about the new strikes, saying that the facts were still being established.(Reuters)
The Ukrainian Ministry of Defence claimed that the country's Bayraktar TB2 had hit the landing craft of the Serna project on Friday. The ministry in a tweet said, "Ukrainian Bayraktar TB2 destroyed another Russian ship. This time the landing craft of the "Serna" project. The traditional parade of the russian Black Sea fleet on May 9 this year will be held near Snake Island – at the bottom of the sea."
Ukrainian Bayraktar TB2 destroyed another Russian ship. This time the landing craft of the "Serna" project. The traditional parade of the russian Black Sea fleet on May 9 this year will be held near Snake Island – at the bottom of the sea. pic.twitter.com/WYEPywmAwX
U.S. first lady Jill Biden on Saturday praised the Romanian government and relief organizations for the range of humanitarian aid they are providing to Ukrainians who are fleeing Russia's war against their country. She called the show of solidary "amazing" but also "just the beginning." Biden delivered her sober assessment at the conclusion of a nearly hourlong briefing at the U.S. Embassy in Bucharest on the massive relief effort.
She was told that Romania had "welcomed" nearly 900,000 refugees from Ukraine since Russia invaded its neighbor on Feb. 24, but most have moved on to other countries. Women and children are the bulk of the refugees.
"It's amazing. It's solidarity here in Romania that you're all working together," Biden said. "I think this is really, unfortunately, just the beginning. Just the beginning." She also applauded Romanians for their generosity. (AP)
The International Committee of the Red Cross (ICRC) hopes the successful evacuation of civilians from a besieged steel plant in the Ukrainian city of Mariupol will pave the way for more people to get out of the complex, a senior ICRC official said.
"Experience shows that a successful action helps further evacuations because now both sides have seen that it works. We hope that we can now build on this minimum of trust," Dominik Stillhart, the ICRC's director of operations, told Swiss newspaper Neue Zuercher Zeitung in an interview published on Saturday.
The ICRC and the United Nations have been working to get civilians out from the Azovstal steel plant, which is also the last holdout for remaining Ukrainian fighters in Mariupol, a southern port city that has been reduced to ruins by weeks of Russian bombardment. Stillhart said that it was "extremely frustrating" that it took weeks of painstaking work to get Russian and Ukrainian authorities on board and to work out logistic details so that combatants at every checkpoint knew when buses would drive by. (Reuters)
The territorial defence headquarters of the self-declared Donetsk People's Republic (DPR) said on Saturday that 50 more people had been evacuated from the besieged Azovstal steelworks in the Ukrainian city of Mariupol, according to Russia's Interfax news agency.
Around 50 civilians had been evacuated on Friday to a reception centre in nearby Bezimenne, in the separatist DPR, whose forces are fighting alongside Russian troops to expand their control of large parts of eastern Ukraine. Scores of civilians have been trapped for weeks alongside the remaining Ukrainian forces holding out in the bombed-out plant. (Reuters)
Pro-Russian separatists in Moldova said on Saturday their region had been hit four times by suspected drones overnight near the Ukrainian border.
"My husband advises me to move closer to Romania, on the Western side of Moldova. However, my mind keeps me closer to our home-country, so that we can travel back more easily. Because we do hope to go back home," says Ekaterina, #refugee from #Ukraine, in tears. pic.twitter.com/RcD4Jlh2Rm
Nearly two weeks of similar reported incidents in the Transdniestria breakaway region have raised international alarm that Russia's war in Ukraine could spread over the frontier. (Reuters)
Russia will celebrate the 77th anniversary of the 1945 victory over Nazi Germany on May 9. Here is a look at the rehersal of it's military parade.
A Russian military band performs on Red Square during the general rehearsal of the Victory Day military parade in central Moscow on May 7, 2022.
Russia will celebrate the 77th anniversary of the 1945 victory over Nazi Germany on May 9
📸Kirill Kudryavtsev pic.twitter.com/o8ek1HARyd
Russia's defence ministry on Saturday said it had destroyed a large stockpile of military equipment from the United States and European countries near the Bohodukhiv railway station in Ukraine's Kharkiv region.
The ministry said it had hit 18 Ukrainian military facilities overnight, including three ammunition depots in Dachne, near the port city of Odesa. (Reuters)
Russian gas nominations via Ukraine to Europe stood at 92.4 million cubic metres (mcm) for Saturday, down from Friday's 98.7 mcm, the Interfax news agency reported, citing data from Ukraine's gas pipeline operator. (Reuters)
The Biden administration sought to downplay the role of American intelligence in the high-profile sinking of the Russian missile cruiser Moskva, distancing itself from any direct role in one of the greatest embarrassments for Russia since it attacked Ukraine. A day after an American official confirmed that the US provided Ukraine with information on the location of the ship, the White House and Pentagon described a limited role in last month's attack and said the Ukrainians make their own decisions.
"We had no prior knowledge of Ukraine's intent to target the ship," White House spokeswoman Jen Psaki said. "The Ukrainians have their own intelligence capabilities to track and target Russian naval vessels, as they did in this case." (AP)
Chelsea Football Club has confirmed that terms have been agreed with a consortium led by Los Angeles Dodgers part-owner Todd Boehly and backed by Clearlake Capital over the acquisition of the English Premier League football team.
Club Statement.
The Stamford Bridge-based outfit announced the 4.25 billion pound ($5.2 billion) deal for the reigning European champions in a statement issued in the early hours of Saturday, subject to receiving the required approvals.
The statement confirmed all proceeds would be placed in a frozen UK bank account and Russian owner Roman Abramovich, who is currently subject to sanctions by the British government, would donate all of the proceeds to charitable causes. (Read more)
The conflict in Ukraine is taking a heavy toll on some of Russia's most capable units and most advanced capabilities, the British Ministry of Defence tweeted in a regular bulletin on Saturday.
Latest Defence Intelligence update on the situation in Ukraine – 07 May 2022
Find out more about the UK government's response: https://t.co/cAYdsWHMvV
🇺🇦 #StandWithUkraine 🇺🇦 pic.twitter.com/4z2cRVCJpf
At least one T-90M, Russia's most advanced tank, has been destroyed in the fighting, the ministry said. Approximately 100 T-90M tanks are in service amongst Russia's best equipped units, including those fighting in Ukraine, it said. (Reuters)
Rescuers were seeking to evacuate more civilians from tunnels beneath a sprawling steel mill in Mariupol as Ukrainian fighters make their last stand to prevent Moscow's complete takeover of the strategically important port city.
Here is the latest from Ukraine:
➡️ 50 civilians evacuated from Mariupol's besieged steelworks
➡️ Ukraine forces accuse Russia of firing during Azovstal evacuationhttps://t.co/tk8Urr5tIc by @melvinreport in Zaporizhzhia and @david_m_stout in Kyiv pic.twitter.com/ci9OSP6pI5
Dozens of people were evacuated Friday from the Azovstal plant and handed over to representatives of the United Nations and the International Committee of the Red Cross, Russian and Ukrainian officials said.
The Russian military said the group of 50 included 11 children. Russian officials and Ukrainian Deputy Prime Minister Iryna Vereshchuk said the evacuation efforts would continue into the weekend. The latest evacuees followed roughly 500 other civilians who got out of the plant and city in recent days. (AP)
The path of diplomacy and dialogue should be the only viable option for addressing the ongoing conflict in Ukraine and no solution can be reached by shedding blood, India has said, as it reiterated its deep concern at the worsening situation in the East European country.
#IndiainUNSC
📺Watch: Mr. @PratikMathur1, Counsellor speak at the #UNSC Arria-formula meeting on #Ukraine ⤵️@MEAIndia pic.twitter.com/iRXE8EgWAI
Russia on Friday hosted a Security Council Arria-formula meeting on 'Systematic and mass grave violations of the international humanitarian law as well as other war crimes committed by the Ukrainian military personnel and militia and discovered in the course of the ongoing special military operation of the Russian armed forces.'
Counsellor in India's Permanent Mission to the UN Pratik Mathur said that India continues to remain "deeply concerned" at the worsening situation in Ukraine and reiterated the call for the immediate cessation of violence and end to hostilities. "We believe that no solution can be arrived at by shedding blood and at the cost of innocent lives. We have emphasised right from the beginning of the conflict that the path of diplomacy and dialogue should be the only viable option," he said. (PTI)
A Fiji court has ruled that the $300 million yacht allegedly owned by Russian oligarch Suleiman Kerimov and seized by the United States must remain in Fiji for now.
Fiji court rules Russian yacht to stay in South Pacific nation for now https://t.co/os7wMuJ0Qi pic.twitter.com/jJPD4nDiJr
The Fiji Court of Appeal has ruled that the luxury yacht Amadea can not be moved out of the South Pacific island nation until an appeal against the seizure is heard, defence lawyer Feizal Haniff, who is acting for the Amadea's registered owner Millemarin Investment Ltd, confirmed in an email.
The US embassy in Suva did not immediately respond to a request for comment on the latest court ruling. (Reuters)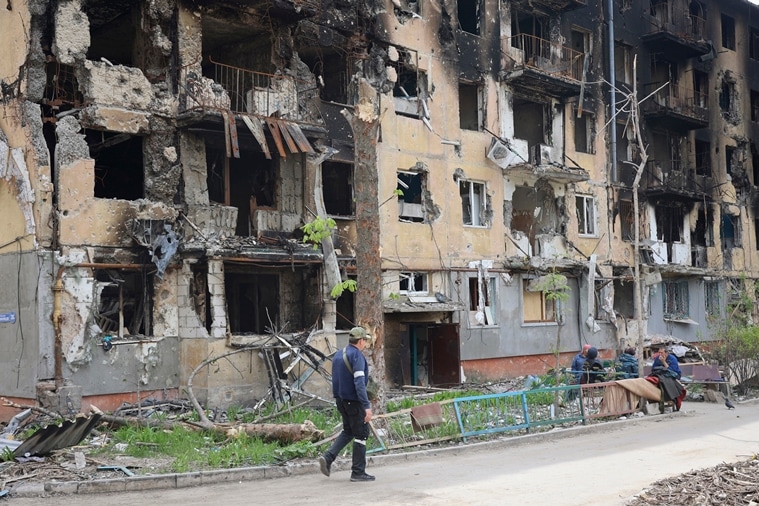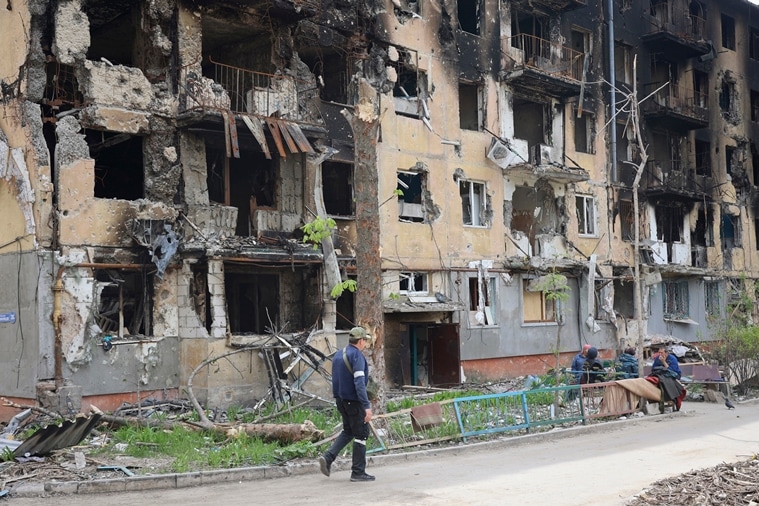 A man walks past a destroyed apartment building in Mariupol, in territory under the government of the Donetsk People's Republic, eastern Ukraine, Wednesday, May 4, 2022. (AP)
Mariupol has been a key fighting ground as Moscow looks to overturn its 2014 loss when the Russia-backed separatists had failed to capture the city in the Donetsk oblast (region). We explain why Mariupol holds the key to the Russian offensive.
Geographically, Mariupol forms a land bridge between Crimea–which Russia annexed in 2014–and Dobass, the separatist-held regions of Ukraine. As of now, the Sea of Azov falls between the Donetsk-Luhansk region and Crimea.
Not just land, capturing Mariupol also gives Russia a maritime advantage. With the fall of Kherson, Russia has already expanded its control over the Black Sea coastline, most of which is dominated by Moscow after it seized Crimea.
Russian oil makes up a fifth of oil refined in Europe, according to the IEA.
Some refineries producing fuel from gasoline to jet fuel such as Germany's PCK Schwedt and Leuna as well as refineries in the Czech Republic, Hungary, Slovakia and Poland get fed Russian crude oil via the Druzhba – or "Friendship" – pipeline.
Poland can switch to seaborne supplies from places like Saudi Arabia or Norway via the Gdansk port in the Baltic Sea.
Poland, itself trying to replace all Russian crude in its refineries, could route some of the oil arriving in Gdansk to these two German refineries, but the details have not been worked out yet.
Changing these supply routes will most likely mean higher feedstock prices for two of Germany's biggest refineries, feeding into higher prices for end consumers