Russia Ukraine War News Today, 8 June 2022: More than 1,000 Ukrainian soldiers who surrendered in the southeastern city of Mariupol have been transferred to Russia for investigation, the Tass news agency reported citing a Russian law enforcement source. The source said that more Ukrainian prisoners would be sent to Russia. Kyiv is seeking the handover of all the estimated 2,000 soldiers from the Azovstal plant in a prisoner swap. Russian lawmakers have demanded that some soldiers be put on trial. Ukraine has expressed concern in the past that prisoners taken to Russia may face torture or even execution.
Meanwhile, the World Bank's executive board has approved $1.49 billion of additional financing for Ukraine. This expands the organization's total pledged support to over $4 billion. The funds are to help Kyiv pay wages for government and social workers. Ukraine has said it needs at least $5 billion per month in the near term to keep its government operating.
Ukrainian President Volodymyr Zelenskyy said in his nightly video address that Russian troops have not achieved a breakthrough against Ukrainian forces in Donbas. "The situation on the front has not undergone any significant changes in the past 24 hours," Zelensky said. He added that "the extremely heroic defense of Donbas continues." Ukraine's president said that the fiercest fighting was continuing around Sievierodonetsk, Lysychansk and Popasna. Zelenskyy claimed that 31,000 Russian soldiers have lost their lives in Ukraine since the invasion began. (Here's why Sievierodonetsk matters to Russia).
Ukrainian forces pulled back to the outskirts of the industrial city of Sievierodonetsk on Wednesday in the face of a fierce Russian assault, the regional governor said, another big swing in momentum in one of the bloodiest battles of the war. Russia has concentrated its troops and firepower on the small eastern city in recent weeks to secure the surrounding province on behalf of separatist proxies. Ukraine has vowed to fight there for as long as possible, saying the battle could help shape the war's future course.
After claiming to have pushed Russian forces back and secured half of the city in a surprise counter-attack last week, the governor of the surrounding Luhansk region said on Wednesday afternoon that most of the city was again in Russian hands. "…Our (forces) now again control only the outskirts of the city. But the fighting is still going on … it is impossible to say the Russians completely control the city," Serhiy Gaidai told the RBC-Ukraine media outlet. (Reuters)
Canada said on Wednesday it was imposing new sanctions on Russia, banning export of 28 services, such as accounting and advertising, that are needed for the operation of Russian oil, gas and chemical industries. Canada's new measures target an industry that accounts for about 50% of Russia's federal budget revenues, according to a statement from Canadian Foreign Minister Melanie Joly.
Since Russia's invasion of Ukraine on Feb. 24, Canada has imposed sanctions on more than 1,070 individuals and entities and Joly said Ottawa would "continue to relentlessly pursue accountability for Vladimir Putin's senseless war." (Reuters)
Ukrainian forces have been pushed back by a Russian bombardment in the eastern city of Sievierodonetsk and now only control its outskirts, the region's governor told the RBC-Ukraine media outlet on Wednesday.
Ukrainian special forces launched a counteroffensive days ago and cleared almost half of the city, but it made no sense for them to stay when Russia started levelling the area with shelling and air strikes, the official, Serhiy Gaidai, was quoted as saying.
"…Our (forces) now again control only the outskirts of the city. But the fighting is still going on, our (forces) are defending Sievierodonetsk, it is impossible to say the Russians completely control the city," he said.  (Reuters)
Ukrainian forces battling Russian troops in a key eastern city appeared on the cusp of retreat Wednesday, though the regional governor insisted they are still fighting "for every centimetre" of the city.
The urban battle for Sievierodonetsk testified to the painstaking, inch-by-inch advance by Russian forces as they close in on control of the entire Luhansk region, one of two that make up the industrial heartland known as the Donbas.
After a bungled attempt to overrun Kyiv in the early days of the war, Russia shifted its focus to the region of coal mines and factories. The region has been partly controlled by Russia-backed separatists for years, making supply lines shorter and allowing Moscow to tap separatist forces to back its offensive. But Russia also faces Ukraine's most battle-hardened troops, who have been fighting the separatists for eight years there. (AP)
The Kremlin said on Wednesday that Western sanctions against Moscow must be lifted before Russian grain could be delivered to international markets. "President (Vladimir) Putin said that in order for Russian grain volumes to be delivered to international markets, direct and indirect sanctions against Russia must be lifted," Kremlin spokesman Dmitry Peskov told reporters on a conference call.
He said the sanctions, which the West imposed in response to Russia's invasion of Ukraine, were affecting shipping insurance, payments, and access to European ports." He added that "no substantive discussions" about lifting them were taking place.
Ukraine and Russia together account for nearly a third of global wheat supplies, while Russia is also a key fertilizer exporter and Ukraine a major supplier of corn and sunflower oil. (Reuters)
Moscow's chief rabbi has left Russia after coming under pressure to support its invasion of Ukraine, according to a relative. Swiss-born Pinchas Goldschmidt had served as Moscow's chief rabbi since 1993, while also heading a large European rabbinical group.
"Can finally share that my in-laws, Moscow Chief Rabbi @PinchasRabbi @Rebbetzin Dara Goldschmidt, have been put under pressure by authorities to support the 'special operation' in Ukraine – and refused," Avital Chizhik-Goldschmidt tweeted on Tuesday. Chizhik-Goldschmidt, a New York-based journalist, said that Goldschmidt flew to Hungary two weeks after the Feb. 24 invasion, raising money for refugees in Eastern Europe before continuing on to Israel.
Jewish organisations in Russia have struck a more critical tone on the war in Ukraine than other religious groups, including the powerful Orthodox Church which has backed the campaign. On March 2, Russia's chief rabbi Berel Lazar called for participants in the conflict to "silence the guns and to stop the bombs", although he stopped short of condemning President Vladimir Putin. (Reuters)
Can finally share that my in-laws, Moscow Chief Rabbi @PinchasRabbi & Rebbetzin Dara Goldschmidt, have been put under pressure by authorities to publicly support the 'special operation' in Ukraine — and refused. pic.twitter.com/Gy7zgI3YkJ
Turkey, which is negotiating with Russia to secure safe routes for grain exports from blocked Ukrainian seaports, is not powerful enough to act as a guarantor, the director of Ukrainian grain traders union UGA Serhiy Ivashchenko said on Wednesday.
He told an online grain conference in Kyiv that the demining of Ukrainian Black Sea ports could take no less than 2-3 months and that the Turkish and Romanian navies should be involved. He also said there were no discussions under way about a discount for Ukrainian grain exported via the Black Sea. (Reuters)
Serhiy Bratchuk, a spokesman for the Odesa regional military administration, said Ukraine has been attacking Russian forces in the South.
In a Facebook video, he said: "Every five minutes a Russian soldier dies in Ukraine."
Located near the capital Kyiv, the Tsar-Khlib factory continued production even as Russian troops advanced, keeping city residents fed despite a missile attack on a neighbouring facility.
At one point, the factory was less than eight kilometres (five miles) from the front line, and many of the factory's workers were stranded in territory held by Russian forces. Most of its clients had fled to safety.
In the end, the immediate crisis passed, as Russian troops withdrew from the area at the end of March. (AP)
Norway donated 22 self-propelled howitzers to Ukraine, including spare parts, ammunition and other gear, the Norwegian defence ministry said.
"The Norwegian government has waited to publicly announce the donation for security reasons. Future donations may not be announced or commented upon," it said in a statement. (Reuters)
Wrestling star John Cena met Misha, a specially-abled teen who fled Ukraine after his home was destroyed. To motivate Misha to leave their home and Ukraine, his mother told him they had to set out to find Cena.
.@JohnCena meets Misha, a teen who fled Ukraine after his home was destroyed.
To motivate Misha on their journey to safety, his mother told him they were on their way to find Cena. pic.twitter.com/0Aeab4GkPZ
Russian state flagship airline Aeroflot said it plans to raise up to 185.2 billion rubles ($3 billion, €2.8 billion) in an emergency share issue.
The company has been under pressure from Western sanctions and airspace bans. The European Union, United States, Britain and Canada have shut their airspace to Russian planes, and Airbus and Boeing have halted the supply of aircraft parts and services to Russian carriers.
Aeroflot said shareholders at its annual meeting approved the issuance of 5.42 billion new shares that could be bought at a price of 34.29 rubles each.
The airline also plants to order 300 aircraft from United Aircraft Corporation which is majority owned by Russia's state aerospace and defense conglomerate.
Ukrainian President Volodymyr Zelenskyy said that Kyiv was launching a "Book of Torturers", a system to collate evidence of war crimes.
"Next week, a special publication is to be launched — 'The Book of Torturers' — an information system to collect confirmation of data about war criminals, criminals from the Russian army," Zelenskyy said in his nightly video address.
Ukrainian prosecutors say they have registered more than 12,000 alleged war crimes involving more than 600 suspects. (DW)
More than 1,000 Ukrainian soldiers who surrendered in the southeastern city of Mariupol have been transferred to Russia for investigation, the Tass news agency reported citing a Russian law enforcement source. The source said more Ukrainian prisoners would be sent to Russia.
Kyiv is seeking the handover of all the estimated 2,000 soldiers from the Azovstal plant in a prisoner swap. Russian lawmakers have demanded that some soldiers be put on trial.
Ukraine has expressed concern in the past that prisoners taken to Russia may face torture or even execution.
The World Bank's executive board has approved $1.49 billion (€1.39 billion) of additional financing for Ukraine. This expands the organization's total pledged support to over $4 billion.
The funds are to help Kyiv pay wages for government and social workers. Ukraine has said it needs at least $5 billion per month in the near term to keep its government operating.
Ukrainian President Volodymyr Zelenskyy said in his nightly video address that Russian troops have not achieved a breakthrough against Ukrainian forces in Donbas.
"The situation on the front has not undergone any significant changes in the past 24 hours," Zelensky said. He added that "the extremely heroic defense of Donbas continues."
Ukraine's president said that the fiercest fighting was continuing around Sievierodonetsk, Lysychansk and Popasna. "There's a sense that the occupiers did not believe the resistance would be so strong," he said.
Russia has been paying almost 300 lives a day for a completely pointless war against Ukraine, President Volodymyr Zelenskyy said.
He claimed that 31,000 Russian soldiers have lost their lives in Ukraine since the invasion began. "And still the day will come when the number of losses, even for Russia, will exceed the permissible limit."
The bodies of some Ukrainian fighters killed defending the city of Mariupol from Russian forces at a vast steel works have been handed over to Kyiv, the families of Ukraine's Azov unit of the national guard said.
Ukrainian forces defending Mariupol were holed up in the Azovstal steelworks for weeks as Russian forces tried to capture the city. The Ukrainian soldiers eventually surrendered last month and were taken into custody by Russian forces.
A Fiji court has ruled a Russian-owned superyacht be removed from the Pacific island nation by the United States because it was a waste of money for Fiji to maintain the vessel amid legal wrangling over its seizure.
The 106-metre (350-foot) Amadea arrived in Fiji on April 13, after an 18-day voyage from Mexico. It was seized by Fiji authorities after the country's High Court granted a U.S. warrant last month that linked the yacht to sanctioned Russian oligarch Suleiman Kerimov.
File photo of a drone video footage showing Russian-owned superyacht 'Amadea' docked at Queens Wharf in Lautoka, Fiji. (Reuters)
Ukraine is set to receive the first delivery of precision multiple launch rocket systems (MLRS) from the US and UK, after the civilian and military leadership of the country made urgent requests for the hardware.
What are capabilities of the rocket systems being sent to Ukraine?
The UK has said it will send long-range M270 MLRS to Ukraine. This weapon system can fire 12 surface-to-surface rockets within a span of 60 seconds and hit targets as far away as 80 km. This range of firepower will be significantly more than what the Ukrainian artillery is currently capable of. Read more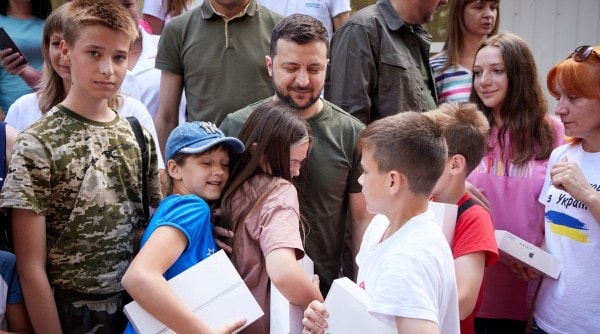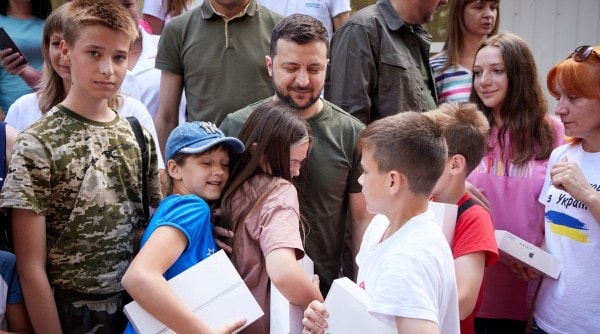 Ukraine's President Volodymyr Zelenskiy attends a meeting with internally displaced people from Mariupol, as Russia's attack on Ukraine continues, in Zaporizhzhia region. (Reuters)
Russia struck Kyiv with missiles for the first time in more than a month, while President Vladimir Putin warned he would strike new targets in the country if western nations supplied Ukraine with longer-range missiles. In Sievierodonetsk, the main battlefield in the east where Russia has concentrated its forces recently, Ukraine officials said a counter-attack had retaken half of the city.
In the Kyiv attack, one person was hospitalised though there were no immediate reports of deaths. Dark smoke could be seen from many miles away after Russia's attack on two outlying districts on Sunday. Ukraine said the strike hit a rail car repair works, while Moscow said it had destroyed tanks sent by Eastern European countries to Ukraine.
Meanwhile, a Ukrainian lawmaker, Yevhen Yakovenko, was detained at the Moldovan border at the request of the International Criminal Police Organization, or Interpol, Moldova's border police. Yakovenko was placed in a pretrial detention centre, a press service representative of the border police said. Viorel Tentiu, the head of Interpol in Moldova, said in a statement that Yakovenko was put on the list following accusations from Belarus of bribery and corruption.